Okay, I will admit, I love me some beautiful and gorgeous covers. I am more likely to pick up a book if it has a gorgeous cover but I will never buy a book just because of its cover. I will always read the summary. Down below will be 10 gorgeous covers that I love! Some of these books I will have read and others I want to read. The covers will be going down the left side and what I have to say will be to the right of the covers.
#1. - My Life Next Door
I own this book but have yet to read it. I will probably read it sometime soon though. I am in love with this cover. I love the colors and the brightness and the couple. Seriously, this is an amazing cover!
#2. - Incarnate
I have yet to read this one either. I love love love this cover though and I think the concept sounds interesting! Must read this one soon!
#3. - Distance Between Us
I don't know what it is about this cover but I love it! :D I have read this book and it was such a cute and quick read! I rated it 5 stars and a review of it should be up soon.
#4. - Pivot Point
Pivot Point, as well as The Distance Between Us, is also written by Kasie West. This woman has some beautiful covers! I have read this one and loved it as well. This one has 5 stars from me as well!
#5. - Hold Still
My favorite color is blue with my second being green. I love the blurriness of this one and I think that is a very unique aspect that you don't see often. I rated this one 5 stars as well.
#6. - The Disenchantments
These colors go absolutely amazing together and I love this cover and the book. 5 stars as well.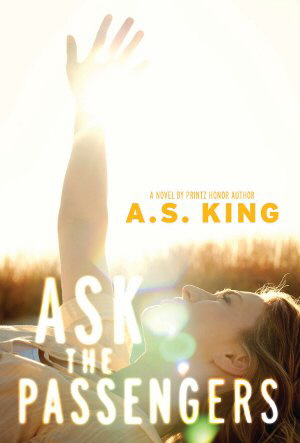 #7. - Ask The Passengers
I don't know what it is about this cover but I am in love with it and its beauty. All of these beautiful covers that I have read so far are 5 stars and this one is jumping on the bandwagon as well. 5 stars! I loved AS. King's writing!
#8. - Across The Universe
This is probably one of my favorite science fiction covers. I have yet to read this one but have heard so many good things about this one! Maybe I can fit the series in before the start of 2014?
#9. - Amy & Roger's Epic Detour
I really enjoyed this book and the cover fits it perfectly. 4 stars for me!
#10. - Parallel
Some may find this cover bland and say there is nothing to it. I love it, though and am so excited to read it! :D